"The Amazonian beauty Queen makeover - the endless face of summer!"

This is the look of healthy radiance you know you love - perfectly sheer, well hydrated complexion; blazing sultry eyes; slightly bronzed cheeks that glow with a hint of sun; hot glossed lips that beckon summer days...

Desert Goddess Ritual + Kit update:
Body
Skin
Face
Eyes
Cheeks
Lips
Hair

BODY: The Desert Amazon is dedicated to maintaining her perfectly "tanned" skin - treating her body to endless slatherings of Nars Body Glow (for that just stepped of the plane from Bali look), or try a blend M.A.C's Gleam coat mixed with Reef Oil for those on a beauty budget... Faux tanning is essential for those who are committed to proactively pushing back the hands of time that is caused by the damaging rays of the sun, however this can be high maintenance. For max tan with minimal upkeep, the St Tropez tanning combo rocks! Exfoliate in the morning, then apply your tan in the evening (before you head for bed is good, 'cause you wake up looking lusciously tanned in the morning!). This natural looking tan is tinted, which makes it oh so easy to apply - you can see potential streaks as you are applying it!! Once your first coat is on, use the moisturiser every day to keep your tan looking primed. All you have to do for upkeep is mix a squirt of tan in with your St Tropez moisturizer every couple of days (or as suits to maintain your desired level of tan). Always wash the evidence off your hands immediately after application - nothing is more of a giveaway than tea colored hands...
desert Goddess menu

SKIN: Whether you are working in air-conditioning or playing in the sun, there are a few skin care necessities for protection and hydration of our precious skin. Avoid the sun between 10am - 3pm, remove makeup, perspiration and pollution with creamy cleansers, tone + hydrate and protect with sunscreen (one of your most effective anti-ageing allies), drink at least your 8 glasses of pure water each day, and if your diet is not as good as you know it could be, then boost your skin by taking a super rich antioxidant mineral + vitamin capsule (like "Kordel's Super Antioxidant formula").
For optimal hydration, nurture your skin with Mukti Botanicals Hydrogel, a rich and rejuvenating blend of potent natural ingredients to restore, balance, hydrate and promote cell regeneration.
For smooth skin around your eyes, the delicately replenishing blend of healing chamomile and nourishing avocado, you'll just love, love, LOVE Sundari's richly antioxidant Chamomile Eye Oil. Apply "the eyes are a reflection of one's inner well-being" philosophy of Sundari, and massage this sublime oil around the eyes to reduce the appearance of any fine lines.
Every beauty queen with an ounce of skin sense uses moisturiser with 30+ UV protection as part of their everyday age management regime.
desert Goddess menu

FACE: Radiant skin is the defining element of a desert Queen - slightly bronzed summery glow, clear, healthy complexion that always looks sunkissed.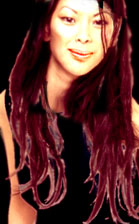 After protecting your skin with sunscreen, polish your complexion with Frangipani self tan, by Sue Devitt, this exquisite potion bronzes skin for a sheer, natural sheen. Even with a hint of a tan, your complexion evens out, minimising the use of foundation (if you need any, esp. if you prefer the "no makeup look" to enhance your golden glow).
Shu Uemura have a fabulous underbase with UV protection that evens out skin tone and can be worn alone for a naturally beautiful skin or under foundation giving you longer wearing and less touch ups!
If you can't get by without wearing foundation, Vincent Longo's water canvas has developed into a prized must have for Hollywood screen goddesses and makeup mavens alike!! This amazing foundation gives you the look of perfect skin - you look like you are wearing no foundation rather than looking like the foundation is wearing you...
desert Goddess menu

EYES: Concealing your Louis Vuitons (under eye luggage) is easier with Shu Uemura'sconcealer pencil - you can blend your very own personalized shade by mixing the dual ended pencil for an exact match. Bobbi Brown's concealer kits have a smooth, easy to blend consistency and dusted with her fine yellow based powder (designed to minimise fine lines and wrinkles) removes bags with ease.
If your eye dilemma is more to do with needing 8 hours sleep, try Shu Uemura's inside pink, lining the ice pink inside your bottom lashes (your inner rim) this "magic sleep stick" works like a treat to cover up red rims, one of makeup artists tricks for brightening and clearing eyes instantly!
California Girl is Trucco's exquisite eye shadow combo - a silky duo that draws focus to your eyes, or for something "to create the illusion of a naked face" try Trucco's face cream alone or over your shadow using your fingertips means that you won't look overly made-up.
Line your eyes in the divine silkwood liquid liner by NARS - smear it (blending with a cotton tip ), define it (using the NARS brush that comes with the eyeliner) or intensify your look (using M.A.C's #217 brush) depending on how much attention seeking your eyes demand!
desert Goddess menu
CHEEKS: a sheer illuminating stain is the healthy glow of the desert rose look for bronzing sticks and cheek tints like: M.A.C's brazilia, Shu's bronze luminizer, Ki cheek tint (a fab beetroot stain), M.A.C cheek paints, Stila sport pushups in bronze and the sheer Trucco sex symbol cheek glaze duo. For a bit of cheeky sparkle, dab some Benefit dancing darling on the apples of your cheeks for a twinkly highlight.
desert Goddess menu
LIPS: A little bit of lipstick goes a long way for a desert rose. Nars delivers the goods with a trio of Honolulu honey lipstick over hush lip liner and topped off with cabiria lip lacquer.
For tasty alternatives, Stila's vanilla pearl lip glaze is sheer, shimmery + highly glossed for a sultry pout, Trucco's movie star Divinyls Lip gloss gives an exotic bare bronzed lip impact, or.
Desert Goddess menu
HAIR: I just adore Kusco Murphy's beach hair - not only will it captivate your senses and take your mind into beach holiday mode (with natural extracts like seaweed, and granules of crushed bamboo + coconut) but this lightweight gel molds and shapes your tresses into funky fragrant styles.
Desert Goddess menu
Go beyond the "no makeup makeup" look with a great makeup that requires a bit of makeup know-how, but minimum fuss to maintain!
FaceArt reviews Stila "minimal face - sportproof makeup"
FaceArt reviews NARS "smudgy Blackmoon eyes + soft Harlow lips"
FaceArt reviews Shu Uemura"Bronze luminizer" makeover
***Makeup Update coming in January 2002: FaceArt reviews Sebastion's "Holographic Metallic" Trucco makeup collection!