"NARS' sinfully modest makeover!"

Lips ooze sensual Modesty in this glossy Harlow lip makeover...

If you want to add a little smolder into your look this season, the charming Jamison worked his specialty makeover using NARS' steamier tones, adding a hint of shimmer and lots of gloss when he gave Vanessa Belle the lowdown with this illustrious makeover.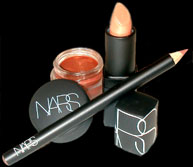 Turn your look from daytime allure to mesmerizing nighttime just by adding a lipstain and changing your gloss color.

NARS Harlow Makeover:
Polishing your foundation into your skin with your sponge to achieve a perfectly flawless base, then lightly brush on your concealer, blend into your base with the foundation left on your sponge and finish with pressed powder. This application techniques gives a perfectly smooth canvas upon which to create. What I LOVE about the NARS pressed powder is that it has no talc - corn starch is the main absorbing ingredient, so big gold stars here!.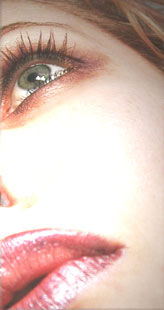 Start your starlet eye look with All About Eve powder shadow in a sheer wash over your whole eyelid, then blend Lulu into your contour and right into your top lashline. For evening, add Blackmoon eyeliner along your top lashline (defining the Lulu), and smudge Bali eye shadow along your bottom lashline. Panama defines the brow and 2 coats of mascara on top for day (add an extra coat on top for night, and to really go for rock star eyes along your bottom lashes).

Wickedly delicious cheeks are a NARS specialty... To define the cheek brush on Malibu, but the essential element of this look is to use Sin over top for subtly wicked shimmer of virtuous envy.


This look needs to be balanced with Lips of celestial proportions - for daytime start with Hush lipliner, add Pigalle lipstick and complete this blissfully natural lip look with Harlow gloss in the center of your lips, top + bottom. For evening transform this look for more vamp pizzazz with the irresistibleModesty stain and gloss with Rollerina.

For other looks that suit your sporting minimal fuss makeover, or your daytime soft shimmery glow, check out this seasons FaceArt makeover reviews >>>

FaceArt reviews Shu Uemura"bronze luminizer" makeover

FaceArt reviews Stila's "sport color push-ups" makeup

FaceArt"Desert Goddess" Beauty Queen makeup kit!