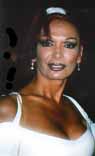 Admiring both the makeup design and the fashion, an assortment of media personalities, fashion designers, makeup artists, celebrity hairdressers, drag queens and PR-types mingled , sipping champers and sangrias in the Art Deco mural hall.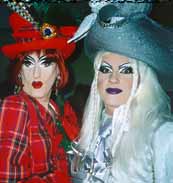 The visual spectacular began w/ a display of gorgeous skimpy little #'s (that you can really only wear on a catwalk…..)! Preceding the appearance of the much-anticipated M.A.C icons, Ru Paul and Kd Lang - storming down the runway in full MAC style!
Above and beyond the fashion extravaganza, M.A.C verified that 100% of lipstick sales from "Viva Glam" I and II, donated to AIDS research, benefits local programs.
On a worldwide scale, M.A.C have raised $15 million for the AIDS cause – how brilliant!
"Back to M.A.C" the irresistible recycling scheme w/ a free lipstick incentive (in addition to the environmental benefits…) was another highlighted bonus. Can other cosmetic companies please take note…..
Article & event pics: Lina Pranckunas – freelance makeup artiste extrordanaire
Lina's M.A.C fix:
Viva Glam lipcolour – I couldn't resist!
I'm impressed w/ M.A.C's latest lipstick formulation! In comparison to other M.A.C lipsticks I bought years ago that were very dry…
This is a gorgeous true red – almost like the original '50's bombshell colour – it's exactly the colour I've been looking for, for about 2 years!